How to set up the GPS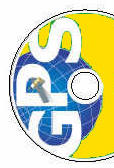 1. Install the driver for your USB GPS.

The driver is a small program that tells your computer how to understand and handle the data from the GPS. It usually comes with the GPS on a CD, but you can also download it on Internet. The driver must be compatible with your Windows (XP, Vista, Windows 7 or 8). The GPS should NOT be connected to your PC when you install the driver. Just run the driver installation program.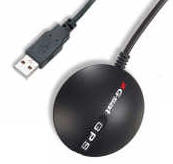 2. When the driver is installed, connect the GPS to a USB port.

Place your GPS so that it can receive signals from the satellites.
If your inside a house, place it near a window.
Windows will detect a new device and assign a COM port number to your GPS - let's say COM 3.
You will find the number in Windows Device Manager. See below.

2. Find the COM port number in Windows Device Manager.

The Device Manager displays
a list of your computer's hardware.
Go down the list and open
Ports (COM and LTP). Here you will find COM and LTP files. LTB are printers. Drivers are COM files. In this example we have a Prolific USB-to-SerialComm Port with (COM3) at the end.
This means that Windows has assigned COM port number 3 to this driver.
Prolific is a driver that is used by many GPS's, but your GPS may obviously use another driver.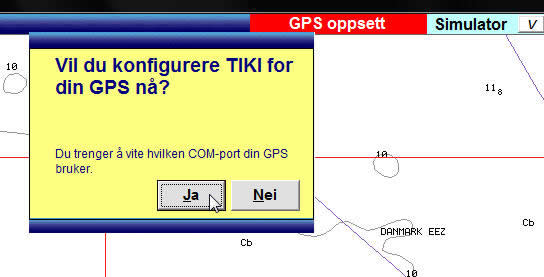 Start TIKI

If you have a licensed version of
TIKI Navionics Gold
click the GPS Setup button at the top
of the screen. The GPS Setup panel
is not accessible in the Free Trial.

If you have TIKI Navigator Pro
go to Main Menu/ Help/ and click
'Test your GPS' or 'GPS Help'.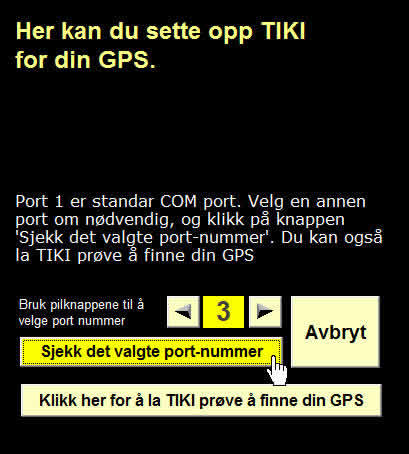 The GPS Setup panel fills the screen.

The port number is by default set to 1.
Change it to the COM port number
assigned by Windows and click the button
"Check selected port number".

You're done!

TIKI will check the port, validate the GPS data and save the COM port number
( in this example 3 ).

From now on, every time you start TIKI,
it will connect to the GPS on port 3.

The only thing you must remember is to always use the same USB port on your computer. If you connect the GPS to another USB port, Windows will assign another COM number to the GPS, and TIKI will not find it on COM 3. Then you will have to change the port number in TIKI's GPS settings. Much better to always connect the GPS to the same USB port.
---
Where do I find Windows Device Manager?
This depends on your Windows OS
XP: Start button - Control panel - System - Hardware - Device Manager.
VISTA: Start button - Control panel - Hardware and Sound - Device Manager.
WIN 7: Start button - Control panel - Hardware and Sound - Device Manager.
WIN 8: Right-click the new "start button" in the bottom left corner,
and select Device Manager on the popup menu.
WIN 10: Right-click the new "start button" in the bottom left corner,
and select Device Manager on the popup menu.
---
Does TIKI have any special GPS problems?
1. The Garmin protocoll: Almost all GPS units output NMEA 0183 data - the standard protocoll for marine instruments. A few Garmin GPS use Garmin's proprietary protocoll that TIKI does not read. If you have one of these Garmin GPSs, you must use the free Franson GpsGate Client for the GPS setup. GpsGate converts Garmin protocoll to NMEA 0183 so that TIKI can read it.

2. COM ports higher than 15: TIKI may also have a problem with COM port numbers above 15.
If Windows against all odds assigns a higher number, you should also use GpsGate.
---
What if TIKI does not find my GPS?
TIKI will find any GPS that outputs NMEA 0183 - the standard marine protocol.
If it does not, there is a 90% chance that you don't have a compatible driver. But before you do anything else I recommend that you use Franson GpsGate Client ( it's FREE! ).
Click here to go to Franson GpsGate Client