TIKI Gold
TIKI Navionics
Gold 3.2
PC Chart Plotter for Navionics Gold
and Platinum Cards

License for 3 PC's
$188.- /EURO 148.-
VAT will be added in EU countries
---
---
---
SYSTEM
REQUIREMENTS
Windows: XP, Vista, 7/8/10.
RAM: 1 GB or more
Processor: 1 GHz or better
Screen resolution:
Minimum 800x600 (SVGA)
1024x768 (XGA) or higher recommended
Charts: Navionics+ Gold or Platinum on SD or Compact Flash card
Card reader - to copy the card to the hard drive. You can use any card reader.
What happens
if you don't upgrade to 3.2 ?
Nothing at first.
But if you update your Navionics
card or buy a new card,
TIKI may not load your charts.
New or updated cards
require TIKI Gold version 3.2
________________________________________________
Here are some features
that you miss if you are still running 2.2

They were all added in version 3.0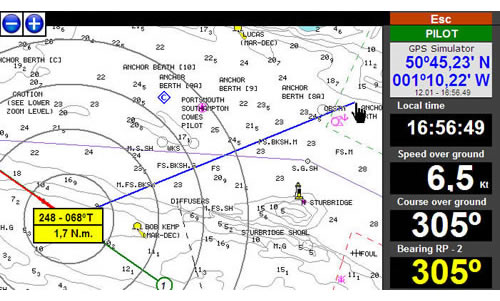 Automatic chart panning
when you take a bearing or create a route
The mouse cursor is no longer restricted by the chart view.
When the cursor gets close to the screen edges the chart moves.
---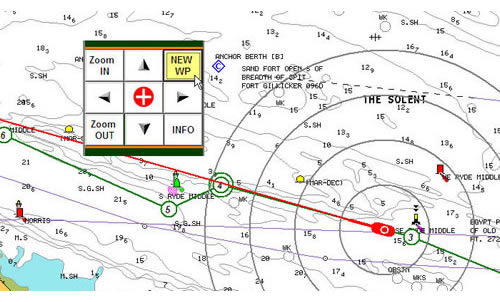 A faster way to create waypoints
To create new waypoints you normally go to Waypoint mode.
But in version 3.0 there is a simpler way - without changing mode:
Just "right-click" the chart where you want to place the waypoint.
and click "NEW WP" in the pop-up panel.
---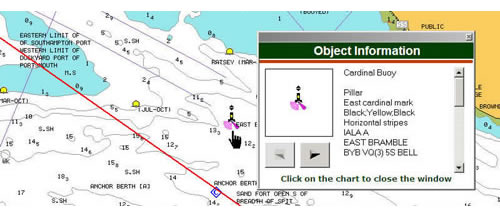 A faster way to check chart objects
Just "left-click and hold" on any chart object.
In about one second the Navionics object information pops up.
---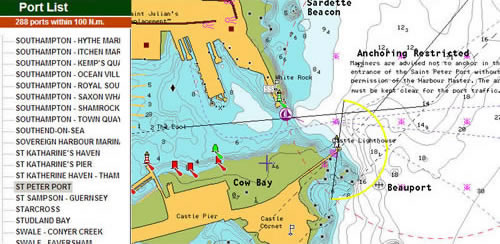 A faster way to view ports
Whenever you click port name TIKI centers the chart on that port.
---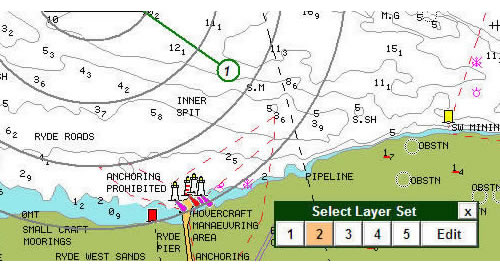 One-click screen tool to toggle chart layers
A Navionics chart consists of 30 layers that can be turned on or off.
To simplify this TIKI has 5 editable layer sets.
and in version 3.0 you can access these with this screen tool.
If you want to display all the layers, click button 1.
To show less, click button 2, 3, 4 - or 5 for a minimum of layers..
To see or change what each of the layers displays, click Edit.
---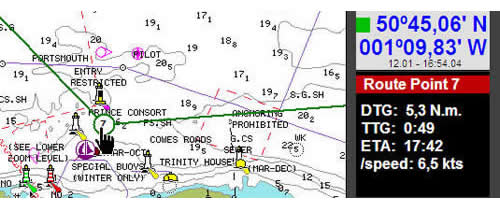 Get route information
just by pointing at a route point
When you point the mouse cursor at a route point,
TIKI calculates DTG distance to go, TTG time to go, and ETA
estimated time of arrival - based on boat speed.
---
Selective AIS tracking
If you for whatever reason would like to track other AIS vessels,
you can do this with TIKI 3.0. Selective tracking was originally created
for a special Search And Rescue version of TIKI.
---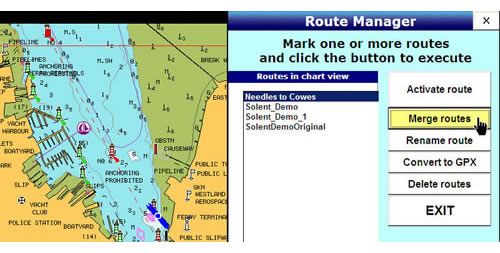 Merge routes
When you combine 2 routes, the merged route is saved
with a new name while the original routes remain unchanged.
---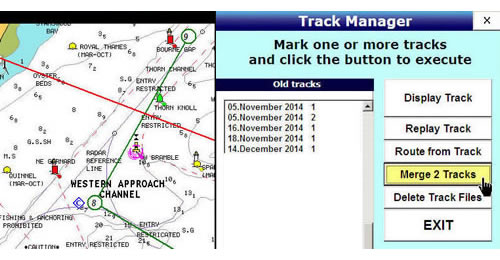 Merge tracks
Other track/ log book news
The track and the log book is backed up every 10 minutes.
And the replay function is improved
---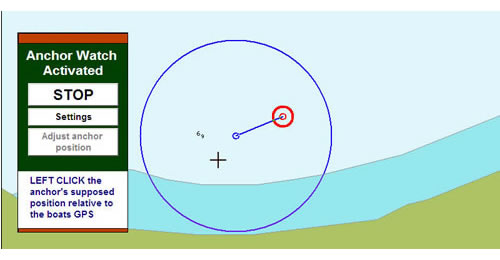 Fine tune the Anchor Watch
When you start the watch, the anchor is set at GPS position.
You should however change this when things have settled down.
Click the button "Adjust anchor position" and place
the anchor at the estimated right place relative to the boat mark.
---

Printing
TIKI can now print route tables, log books and the chart view.
---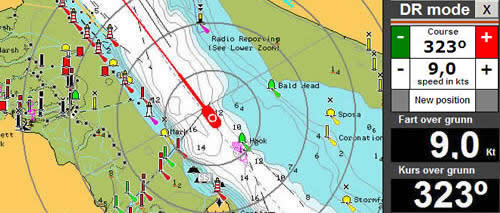 New Dead Reckoning interface
If your GPS should ever fail, TIKI gives you the option to navigate
with dead reckoning - like in "good old" days : )
Version 3.0 has a new easy to use dead reckoning control.
TIKI NAVIONICS GOLD 3.0 - FEATURES
.
CHARTS
.
Navionics Gold charts on SD or CF cards
Yes
Navionics Platinum charts - (only 2D chart and limited Platinum features)
Yes
Raster charts ?
No
.
INSTRUMENTS
.
GPS
Yes
AIS Support
Yes
Autopilot
Yes
Log, Wind, Compass, Depth Sounder
Yes
.
CHART FEATURES
.
New Magnifyer to make symbols and text easier to read
Yes
North Up and Course Up
Yes
Tides and Current
Yes
Digital information in the chart
Yes
Platinum features (Port info and port photos only)
Yes
Number of chart windows
1
Boat in center
Yes
Boat placed for max view ahead
Yes
Select the next chart automatically
Yes
Wind graphics
Yes
Fullscreen mode
Yes
Manual chart correction
No
.
NAVIGATION
.
Boat position,, SOG og COG
Yes
AIS
Yes
Single bearings - Now with time calculation
Yes
Serial bearings - Now with time calculation
Yes
True or Magnetic bearings
Yes
Route administrator
Yes
Max number of points in a route
500
Unlimited number of routes
Yes
GPX Export/import of route
Yes
Course, distanse, time to go - and ETA at next route point
Yes
XTE cross track error from route line
Yes
VMG to next route point
Yes
Steering Compass
Yes
Route table with course, distance, TTG and ETA
Yes
Show and save boat track
Yes
Show any old track
Yes
Dead Reckoning if the GPS fails
Yes
Man Over Board navigation
Yes
Logbook
Yes
Create route from saved tracks
Yes
.
WAYPOINTS
.
Advanced waypoint manager
Yes
Unlimited number of waypoints
Yes
Attach JPG pictures to waypoints
Yes
Waypoint Search
Yes
GPX Export/ import of waypoints
Yes
.
OTHER
.
Screen Dimmer for night sailing
Yes
Replay of saved tracks
Yes
Anchor Watch
Yes
Print chart view, log books and route tables
Yes
Are you still using a system that requiresthe Navionics MultiCard Reader? Click here!